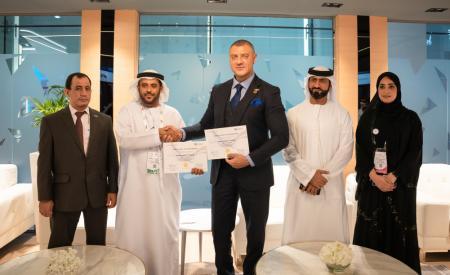 Fujairah Finance Department has signed a strategic agreement with JAGGAER to improve procurement operations
Dubai, United Arab Emirates: JAGGAER and the Fujairah Government Ministry of Finance, in cooperation with Fujairah E-Government, officially announced a new seven-year partnership at a signing ceremony held today at GITEX Technology Week 2021. The partnership will see government transform their procurement and supplier management processes through the implementation of JAGGAER's source-to-pay platform, JAGGAER ONE.
The intuitive platform will enable better sourcing decisions, faster cycle times and streamlined data processes for improved vendor collaboration and relationships through features such as e-procurement and vendor management and contracts.
HE Sheikh Eng. Mohammed Bin Hamad Bin Saif Al Sharqi, E-Government Manager, Fujairah, said, "JAGGAER's SaaS source-to-pay solution was the perfect fit for our needs and aligned perfectly with our business strategy.
"Autonomy and connectivity across our entire supply chain is of the utmost importance – the JAGGAER ONE system provides the tools to develop more insightful supplier relationships with a flexible and intelligent system. We can also ensure on-time delivery through their procurement technology, which allows us to provide the best services while creating added value.
HE Ali Mustafa Mohammed, Chief Executive Officer of Fujairah Finance Department said, "Fujairah Finance Department strives to maintain its vision to achieve excellence in the management of public funds, policy formulation and development of financial legislation for the Emirate of Fujairah to ensure financial sustainability and meet requirements in accordance with best practice.
"As well as introducing a range of digital products and services in the near future, this demonstrates the spirit of innovation that characterizes the department and will be an effective tool to achieve greater efficiency and savings."
"With the JAGGAER ONE system, the finance department will realize a range of benefits through digital source-to-pay solutions. These include safe and secure content archiving systems that will drive efficiency and agility in information retrieval, faster processes for supplier qualification, proposal comparisons, contract management and orders and negotiations.
HE Ahmed Alyammahi, Deputy Director General Affairs, Fujairah Finance Department, said, "The new Supplier and Procurement Platform will help the Fujairah Government Finance Department automate procurement processes and reduce lead times. .
"The JAGGAER ONE platform is a mandate for corporate governance and quality management requirements, and it is imperative that government agencies sign such agreements to ensure the quality of targeted results, facilitate the corporate governance and promote operational processes in the management of purchases, suppliers and electronic contracts.
"The program also contributes to the implementation of Law No. (3) of 2019 relating to contracts and tenders and warehouses published on June 26, 2019."
Hany Mosbeh, Vice President of Middle East and Africa Sales, JAGGAER, said, "We are proud to support the Fujairah Government Finance Department and the Fujairah e-Government Department in their digital transformation efforts through the using our source to pay solution. By adopting a transformative approach to procurement, Fujairah's finance department will be able to unleash the full power of procurement and drive excellence that will shape the direction of the department."
-Ends-
About JAGGAER: Simplified Sourcing
We create customer value for buyers and sellers through our connected global network served by offices located in the Americas, APAC, Asia and EMEA. JAGGAER develops and delivers comprehensive source-to-settlement SaaS solutions, including advanced spend analytics, category management, vendor management, procurement, contracts, eProcurement, invoicing, supply chain and inventory management. It's all on one platform, JAGGAER ONE. JAGGAER has been a pioneer in expense management solutions for over 25 years and continues to be at the forefront of innovation by listening to customers and stakeholders across all sectors of industry, utilities and academia.
Media Contact:
JAMES LAKIE
General manager
Tel: +971 4 365 2711 | Mobile: +971 50 153 6544
Email: james.lakie@shamalcomms.com
3208, Indigo Icon Tower
Group F, Jumeirah Lakes Towers
PO Box 502701 | Dubai, United Arab Emirates
Website: www.shamalcomms.com
© Press Release 2021