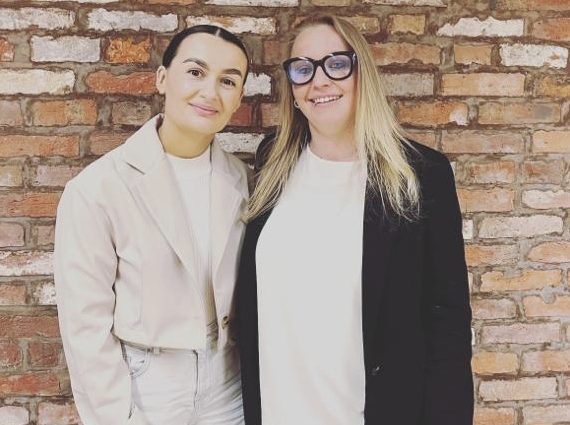 People: Frontline recruiting; FRP Corporate Finance; ICT link
Front line recruiting expands with two new recruits.
The company, which has offices in Nottingham, Derby, Leicester, Chesterfield, Mansfield, Hull and Weymouth, has hired Lorna Turner as marketing specialist and Clare Talbot as contract manager for Castle Donington.
Talbot is returning to the recruiting industry after a stint in the healthcare industry. She said: "Frontline really put me at ease and after my first interview I knew I wanted the job and was lucky enough to be offered the job.
"I can bring dedication and commitment to our client, which I believe is paramount when working in recruitment. I want to build a relationship with our client that is based on trust and seeks to grow the business with the mindset that we may be asked to fulfill other roles outside of the usual client request.
"I really enjoy working with Frontline. I couldn't have asked for a better presentation of the company, the client and the team.
Meanwhile, Turner is a recent graduate and says she was given a "great opportunity" by Frontline to launch her career.
She added: "I wanted to join a successful business, and Frontline has expanded to different parts of the UK, as well as winning and being nominated for awards. I hope to help the company and each affiliate along the way with all things marketing.
"As a graduate and having studied marketing and advertising for 4 years, I hope to bring fresh and new ideas to the role that I have never used before and share my creativity, I hope to bring a positive impact by being passionate about marketing and I know the importance of doing things right for a business.I also hope to bring motivation and enthusiasm because I love what I do and am determined to make a difference here at Frontline.
David Essam, Director of Operations at Frontline, said: "Lorna and Clare are the perfect complements for these two key roles within the business, and I couldn't be happier to have them on board.
"Both have seamlessly integrated into our culture and way of working, and I look forward to working with both of them in the future."
FRP Corporate Finance has appointed Oliver Taylor as Associate Director working from its offices in Leicester and Nottingham.
Prior to joining FRP, he worked for a boutique consulting firm, where he provided corporate finance advice to organizations across a wide range of industries.
Harry Walker, Partner at FRP Corporate Finance, said: "The East Midlands has a thriving community of growth-oriented businesses, with strong demand for corporate finance support and advice.
"Oliver brings a wealth of experience to the team, with experience working on a range of private equity and corporate mergers and acquisitions, in industries as diverse as technology, healthcare and consumer products. His appointment continues to expand our presence in the region and ultimately strengthens the strength of our 60-person corporate finance team nationwide, putting us in an even stronger position to help our clients realize their strategic ambitions.
Derby-based ICT provider ICT link strengthened its technical team following the appointment of Max Briggs as IT technician.
Briggs will join a team of experts who will provide advice, training and IT support to customers.
Mark Fryers, Managing Director of Link ICT, said: "Max has already shown great promise and, based on customer feedback so far, is settling in well and is already part of the team on site. at customers."
Briggs said, "All schools and businesses have different IT infrastructures which rightly are designed around what works best for them. What I like most about Link ICT is that they really understand this philosophy and are willing to be flexible and take a customer-centric approach to problem solving. They are truly committed to making sure users understand the technology they have so the organization can run efficiently and productively. While in the beginning it took a bit of time to adapt to new systems or processes, get familiar with different equipment, and understand how each client configuration works – I found that this expanded my experience, which I wanted my new role.