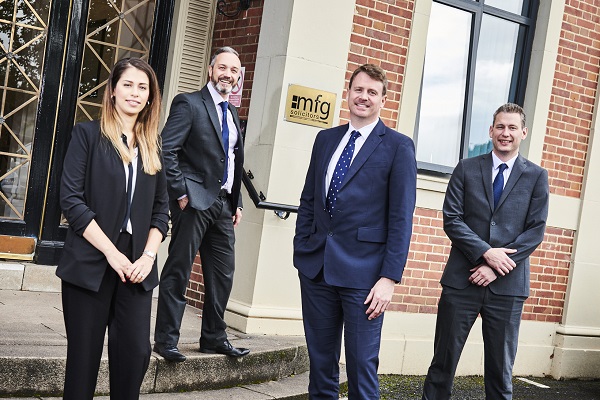 People: The law firm expands its private client division; corporate finance advisor
A Midlands law firm has expanded its private client division following an increase in demand for services such as drafting wills, probate and powers of attorney.
Mfg Lawyers announced the appointment of Tristan Lewis as senior partner, Will Jones joining at partner level and the third of the trio, Sarah Ben-Tarifite, joining the team as a lawyer.
Jones and Ben-Tarifite, both wills and estate administration specialists, will be based in mfg's Bromsgrove offices, while Lewis, a power of attorney, estate tax and wills expert, will be based in the firm's offices in Worcester.
All three will report to Giles Scott, partner and division head.
He said: "Tristan, Will and Sarah have many years of experience working with clients ranging from those in farming communities to people in care who need to obtain power of attorney and allow trusted relatives to make decisions for them.
"With an aging population across the UK, more people than ever will need some form of assistance later in life and it is essential that they make plans for this and receive the best and the right advice.
"It is partly because of this that demand for our private client services is at an all time high and so I am delighted to welcome Tristan, Will and Sarah to the team during an extremely busy time for us."
mfg has offices in Kidderminster, Worcester, Bromsgrove, Telford, Ludlow and Birmingham.
Corporate finance advisor Springboard Corporate Finance recruited four new members to its team.
Claudia Haywood joins as an executive from EY where she worked in audit and earned her chartered accountancy qualification. She graduated from the University of Bristol with a degree in biochemistry in 2018.
Saquib Hussain graduated from the University of Warwick in Accounting and Finance in 2017, during which he completed an audit internship at KPMG. After obtaining his diploma, he joined KPMG in the Transaction Services department where he obtained the diploma of chartered accountant.
The duo joins as executives at Springboard and will work on a variety of buying and selling assignments.
Shivan Vallabh graduated from the University of Nottingham with a degree in Accounting and Business in 2021. While at university, he completed audit internships at PwC, before joining Springboard.
Hamza Rehman graduated from the University of Nottingham with a degree in finance, accounting and management in 2020. Prior to joining, he worked as a senior analyst within Deutsche Bank, providing in-depth customer risk analysis across the bank .
They join as analysts at Springboard and will assist the team in a variety of M&A and advisory projects to provide company and sector assessments and assist in the identification of global strategic acquisitions.
Springboard Partner Simon Ward said: "We have seen high levels of activity across all areas of our business over the past few months. For the founders, there remains strong interest from acquirers in the UK and overseas, while our private equity clients remain keen to grow through acquisitions and new investments.
"The hiring of Claudia, Saquib, Shivan and Hamza is a demonstration of our continued optimism about the future and our commitment to providing excellent customer service across our business. We are delighted to welcome them to the team.