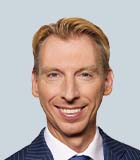 Andreas Stoecklin | business Finance
Andreas' industry expertise focuses on TMT and Industrial/Chemicals. His engagement highlights include advising:
a publicly listed German telecommunications company in the spin-off and sale of its passive infrastructure to a leading European infrastructure company
a publicly traded German technology company in its acquisition of a leading augmented reality (AR) and internet of things (IoT) company
a leading global technology and research company in the sale of four global divisions to a listed European competitor
two major global automotive groups on merging their mobility services (ranging from car-sharing, ride-sharing, innovative charging and parking solutions to multimodal offerings) in a newly formed joint venture
a world-renowned system architect and ICT integrator for broadcast and media technology in the sale to a German investment company
a leading telecommunications company in the spin-off of its hosting and managed services business
a leading German media company on several e-commerce and technology acquisitions
a publicly traded telecommunications company in the sale of fiber optic network and data center assets to a global private equity group
several major telecommunications companies for the strategic review, sale or joint venture of (digital) customer service operations
a listed German telecommunications company on restructuring options
a large media group in connection with the sale of a digital advertising agency to management
in the sale of a listed German business services company to a German family office
a leading global chemical company on several divestments of non-core businesses in Switzerland, Norway, Germany, US and UK
a Tel Aviv-based chemical company on the sale of European and Chinese assets
a listed German chemical company on portfolio review and global acquisition targets
an Asian telecommunications company on strategic options for a business unit
a Japanese technology company on several acquisitions in Europe
a global chemical company in a technology joint venture with a Japanese company
Prior to joining the company in 2007, Andreas worked in corporate finance advisory, mergers & acquisitions and treasury/capital markets at Siemens. He has developed extensive experience in the areas of M&A advisory, value analysis of business plans and corporate strategies, and management of financial and operational carve-outs.
Andreas received his MBA from the University of Chicago Booth School of Business and is registered with the Financial Conduct Authority. He is a member of the German Mergers and Acquisitions Association (Bundesverband M&A) and the German Private Equity Association (Bundesverband Deutscher Kapitalbeteiligungsgesellschaften).