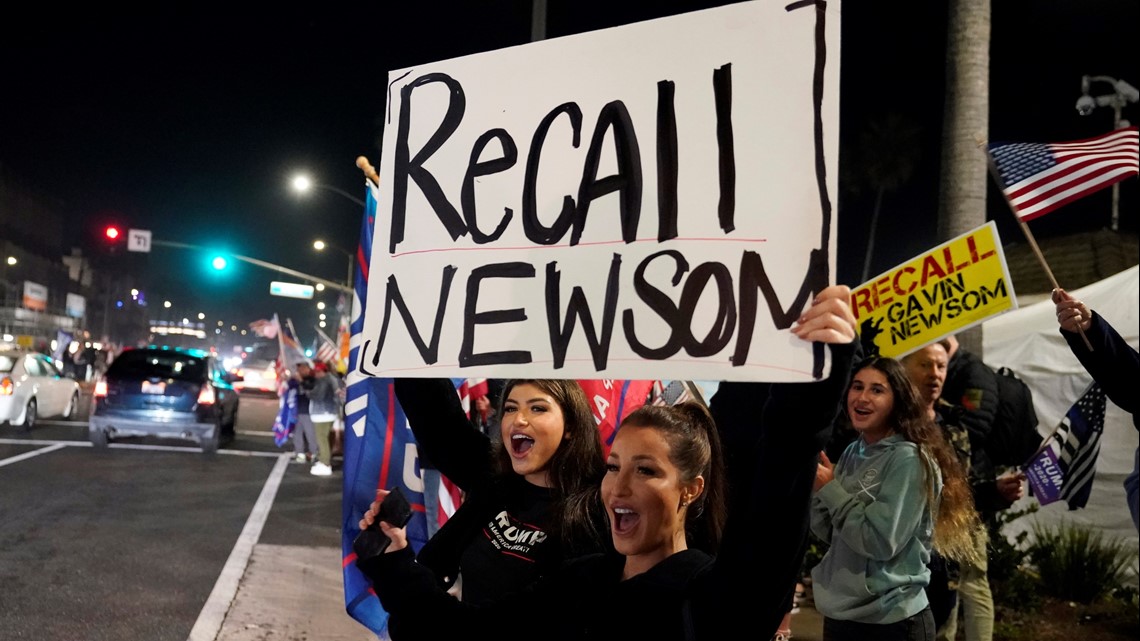 California Department of Finance releases cost of recall elections
Following the certification of the recall petition, Lieutenant Governor Eleni Kounalakis announced that Tuesday, September 14 would be the date for the recall election.
SACRAMENTO, Calif. — The cost of California's upcoming gubernatorial recall election has been finalized at $276 million, according to the state Department of Finance.
Cost estimates released in early June 2021 were $215 million, but finance officials say that cost increased after the passage of Senate Bill 152, which speeds up the recall process by allowing lawmakers to skip the 30-day legislative review for as long as they set aside money for counties to pay election fees, according to reports from The Associated Press.
The initial estimate assumed that the election would take place on a regular election date. With SB 152, the updated county-by-county estimated cost for a special election was $243.6 million, plus $32.4 million to the Secretary of State's office to run the special election. .
RELATED: GOP cries foul as California approves new governor recall rules
State Republicans have denounced SB 152 — which adopted party-line votes — saying it essentially amounts to cheating. Democrats have argued that the change would allow the election to go ahead as soon as possible and allow as many voters as possible to participate.
"Any kid can tell you that changing the rules in the middle of a game is cheating," Assemblyman Kevin Kiley, (R – Dist. 6), told ABC10.
ABC10 political analyst Steve Swatt somewhat agreed with the GOP argument.
"The Democrats, of course, would like to have it as soon as possible because they think the governor is now in a good place. And the longer you wait, the worse things can get," Swatt said.
Advancing the election potentially eliminates the possibility of a disaster, such as a massive wildfire, potentially swaying voters. It could also backfire if Democratic voters aren't motivated to participate in a special election.
After the cost of the recall was finalized by the Department of Finance, Secretary of State Shirley Weber also announced certification of the recall petition.
This certification was then given to Lieutenant Governor Eleni Kounalakis, who by law was required to set a date for the election "not less than 60 days nor more than 80 days" from July 1. Just before 2:30 p.m., Kounalakis announced that Tuesday, September 14 would be the date for the recall election.
Former San Diego Mayor Kevin Faulconer issued the following statement upon the announcement of the recall election date:
"People have spoken and this callback is happening. This movement is fueled by Californians from every community – Democrats, Republicans and Independents. I am ready to lead this callback and begin the California Comeback to clean up our streets, reduce taxes on the middle class and reopening our schools Change is coming for California and retirement is approaching for Gavin Newsom.
John Cox, who is also running for governor as a Republican, issued a statement on the recall date:
"The fires are starting to rage, we are still not sure schools will open in time, homelessness is out of control and taxes are way too high. We have power and water shortages; crime is out of control and the cost of housing and living in general is skyrocketing. Gavin Newsom will be recalled on September 14. Insiders and allies have done their best to manipulate the election date for the pretty boy Governor, but it doesn't matter. People are tired of corruption and politicians who don't deliver. California needs big beastly changes. A new day for California arrives on September 14.
California Republican Party Chairwoman Jessica Millan Patterson released the following statement when announcing the recall date:
"Shout out to the California Democrats for manipulating their own recall rules. Now Californians just have to wait until September 14 to recall the worst governor in California history, Gavin Newsom.
Click HERE to read the full cost breakdown from the Department of Finance.
Learn more about ABC10
WATCH ALSO: Democrats pass bill that increases recall, Republican candidates respond