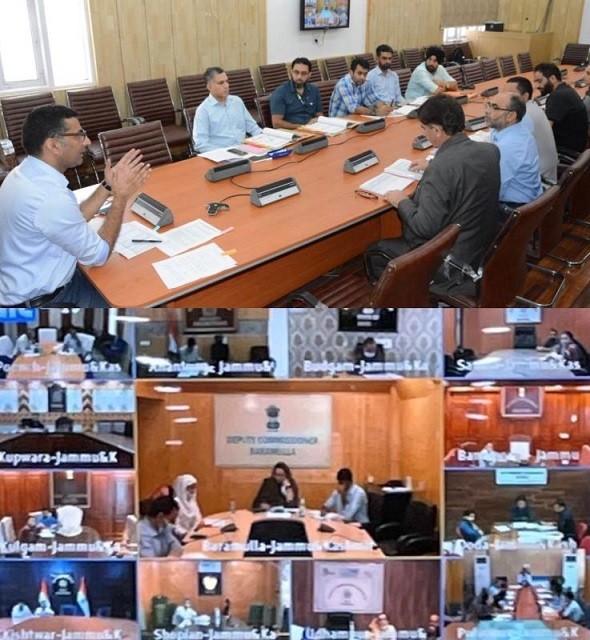 The Ministry of Finance has approved a 5% margin under the SEI: Dr Shahid Iqbal
SRINAGAR, AUGUST 31: Youth Mission Chief Executive and Tribal Affairs Secretary, Dr. Shahid Iqbal Choudhary today called on banks and program partners to introduce youth-friendly measures for approval and sanction cases in various entrepreneurship programs. The DLICs have so far approved more than 7,600 cases worth Rs 618 Cr.
Vice President J&K Bank, Director of JKEDI, District Nodal Officers, OSD Mission Youth and partner organizations from various programs attended the meeting where a number of decisions were made to revamp the process formulation of the DPR, professional training and sanctions.
It was informed that District Implementation Committees (DLICs) headed by Deputy Commissioners have approved 5176 cases under the Mumkin scheme worth Rs 496 Cr, of which 4295 cases have been referred to banks and 2315 disbursed so far under the Tejaswini program for women 2443 cases worth Rs 122 Cr have been approved by DLICs.
Under the Boosting Entrepreneurship initiative, 2,700 applications were received/approved by DLICs.
Given the massive demand from young people, the Ministry of Finance has approved a 5% margin to be sponsored under the program, in addition to other benefits already notified. A youth skills development program has also been put in place.
Under the Rise Together scheme providing up to Rs 10 Lakh per company, a total of 68 cases have been approved.
Based on feedback from DLIC Nodal Officers and DECC Officers, it has been decided that the formulation of the DPR will be coordinated at the district level by the designated Competent Authorities and that applicants will have the option of having the DPR formulated themselves.
Skills Development Training and Entrepreneurship Development Program (EDP) under the Tejaswini Program will now be provided at JKEDI, Rural Self-Employment Training Institute (RSETI), Polytechnics , Industrial Training Institutes and Skill Development Training Institutes registered with NSDC and J&K J&K Skill Development Mission grievances in view of several issues raised related to the sanctioning and disbursement of cases, in order to ensure timely resolution of issues and to help young people succeed in their endeavors under various programs.
The CEO also asked district teams and headquarters for a weekly monthly progress review and real-time data update.